Public Health Needs Leaders With Heart – Public Health Leader Juanita O. Arendse Receives Jakes Gerwel Award 2020
"South Africa's public health system faces a number of challenges - and we need leaders to solve them, not just managers. That's one of the lessons COVID-19 has helped drive home - and it's one we all need to learn."
That's how Western Cape Chief Director: Emergency & Clinical Services Support, Juanita Arendse, approaches her work – and it's that approach that has earned her 2020 Jakes Gerwel Award in Public Health from the University of the Western Cape's (UWC) School of Public Health.
The annual award, endowed by the Mauerberger Foundation Fund, honours and recognises former UWC Rector and Vice-Chancellor Jakes Gerwel's central role in promoting public health practice, and is open to all graduates of the School who have, through their work, made an impact on public health through professional or academic leadership and innovation.
"Jakes was probably best known to most South Africans as one of the country's great intellectuals and thinkers, a man who helped shape our transition into a democratic South Africa," notes Prof Uta Lehmann, Director of UWC's School of Public Health. "But for us at UWC – and especially for us at the SOPH – we remember him as the visionary leader who steered UWC through turbulent times, transforming the University from a 'Bush college' into a vibrant space of engagement for scholarship."
With a Post Graduate Diploma in Nursing Science Administration and another in Nursing Science Education (University of Stellenbosch), and along with her MPH from UWC, Juanita has a unique understanding of what is involved in working on the frontline of the Western Cape public health services – in relation to clinical, mentoring, management and policy practice.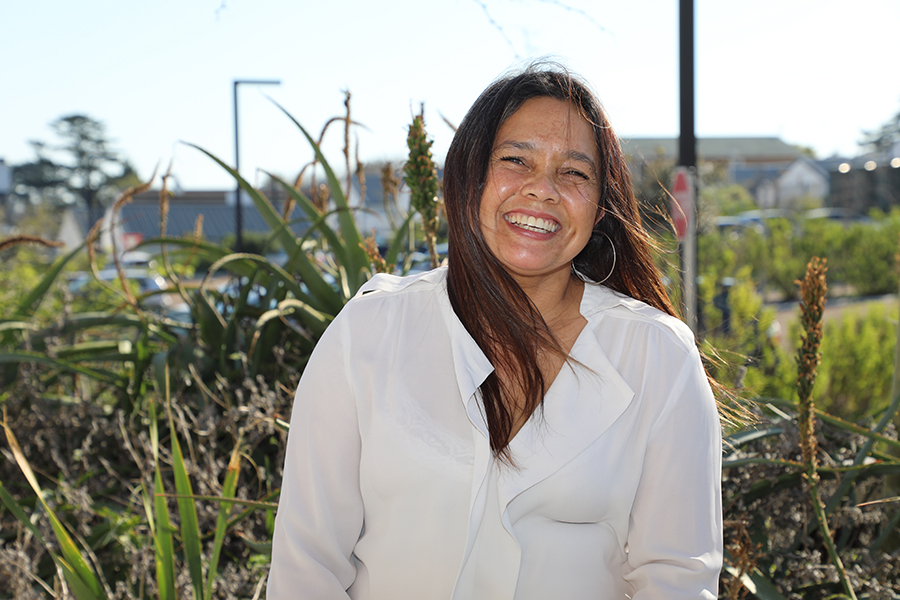 "Before COVID, we were already facing a system that was under tremendous pressure," Juanita notes. "The massive burden of non-communicable diseases: diabetes, hypertension, ischaemic heart disease and so on. The impact on our emergency services from trauma and violence, particularly as a result of substance abuse. The sheer volume of the uninsured who need help, and the challenges of a system where in certain areas our resources are not commensurate to actual needs. And of course, there's our society's ongoing HIV and TB burden to consider as well."
And then on top of all that, there's COVID-19.
"The pandemic in itself is significant and dealing with its effects is a tremendous challenge. Treating tens of thousands of COVID-19 positive patients, promoting the prevention of further spread, rolling out the biggest vaccination programme the country has ever seen – all with the same human resources which were already physically and emotionally stretched. Although it's been a massive challenge for the health sector, we've been forced to do things differently, and during all of this hardship we've learned so much, and we cannot – we will not – go back to doing many things the way we did before."
So what can we do?
"We need to remember that the health system is bigger than any one person, or team. To tackle our challenges, we need to innovate, to push the boundaries. And that can only happen when we support our colleagues, empower and mentor them and help them grow. And if we celebrate differences and capitalise on each individual's strengths, we will be more resilient together. It's like a body; each unique part has a unique function so that the body can operate optimally as one whole unit. It is crucial that we value people and invest in them – and help them pass that investment on."
The Jakes Gerwel Award emphasises the strength of Juanita's long-term commitment and outstanding performance to public service, a commitment previously acknowledged in 2018 when she received a Bronze Award for the Best Public Service Leader.
"Ms Arendse joins an illustrious group of awardees who honour the legacy of a great leader, and his commitment to improving the lives of South Africans (and others),' says Prof Tyrone Pretorius, UWC's Rector and Vice-Chancellor. "That commitment, and that leadership, is needed now more than ever, as we see the devastation wrought as the fruits of a country whose transition to democracy has not been complete. It is for this reason that I find this award so meaningful – and I urge Juanita and her fellow awardees to continue doing what they are doing – and teach us all how to do better."
A journey of learning & community: From the Cape Flats to the corner office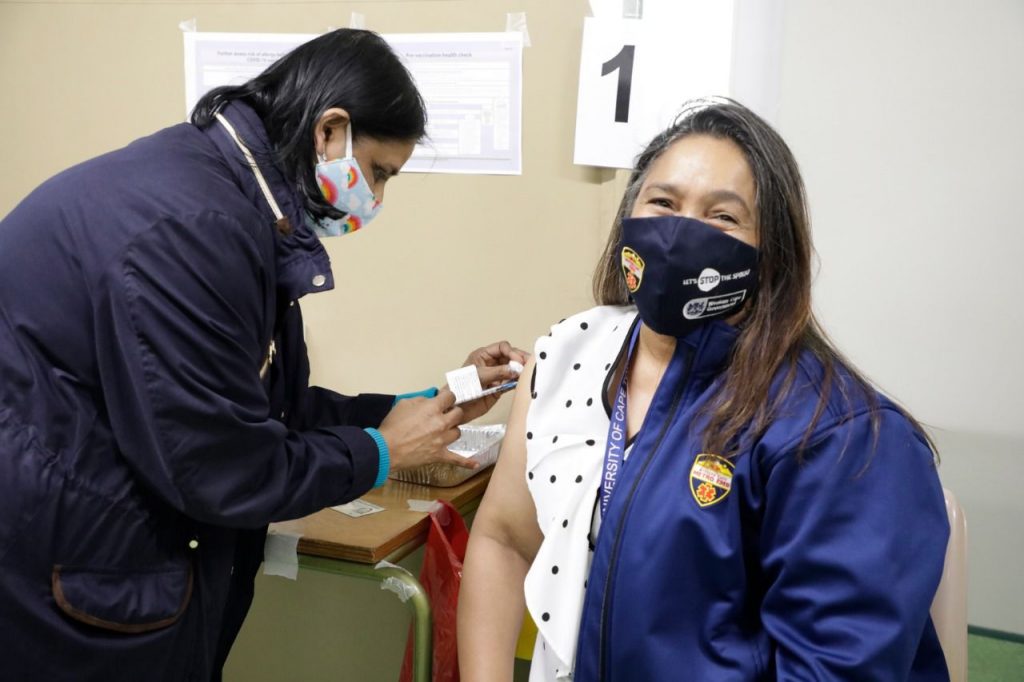 Juanita grew up in Bonteheuwel on the Cape Flats and has been working within the public health system in the Western Cape for 32 years. She currently works as the Chief Director: Emergency & Clinical Services Support, and leads the Provincial Project Office team for the COVID-19 Vaccination Programme.
"Growing up in the Apartheid era, with often limited opportunities, as we all know, it takes a village," she recalls. "This creates a strong sense of community and motivates me to continue doing my best for the people I am privileged to serve."
Juanita took on increasing levels of public health management responsibility, broadening her experience and deepening her understanding of the complexity of managing people, programmes and services, and the infrastructural and financial resources at the frontline.
She also found time to study, obtaining her Master of Public Health from UWC's SOPH in 2012. And she's currently registered as a PhD Candidate with UCT's School of Family Medicine and Public Health. "This remains a journey for me. Leaders must be open to learning – the journey is the destination."
Juanita considers herself fortunate to have benefited from strong leadership in her own career. Leaders like Dr Keith Cloete, Head of Department for Western Cape Health Management, a colleague, supervisor and mentor for over 20 years; Dr Gio Perez, Chief Director in the Metro Health Service, who challenged her to take on palliative care (and her PhD); Her MPH supervisor, Dr Vera Scott, a long-standing colleague at the School who is now the City of Cape Town's Area Manager: Khayelitsha and Eastern Sub-District; and, her current supervisor, Saadiq Kariem, Chief of Operations for the Western Cape Department of Health (and a fellow Jakes Gerwel Awardee).
"Just like that child in Bonteheuwel that required a village, I am who I am because of the support of my mentors, fellow leaders and my many colleagues," she says. "And the support of my husband, children and family, who remind me what really matters. And last, but not least, my mother, who was a woman who worked hard all her life to support her children, and whose wisdom still guides me today. 'Do it right or don't do it at all,' she used to say, 'don't do it half.' I try to live by that every day, and hope to inspire others to try as well."
Want to know more about Juanita's journey from the Cape Flats to the corner office? Just watch this. Keen to know more about Jakes Gerwel, and the School of Public Health? We've got you covered.