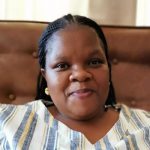 Ms Nolitha Komeni
BCom Management (UWC), PGCE (UNISA)
Senior Office Coordinator
E: nkomeni@uwc.ac.za

Nolitha Komeni re-joined SOPH as Senior Office Co-ordinator in June 2019.
Nolitha previously held the position of Administrative Assistant / Receptionist at SOPH in 2013. Thereafter she joined the Education Faculty at UWC and worked as Administrative Officer for two years.
Before returning to SOPH she held the position of Faculty Assistant for four years at the Faculty of Health and Wellness, Cape Peninsula University of Technology at their Bellville Campus.
In her new position at UWC she heads the Administration of the School and her responsibilities include office and personnel management, oversight of summer and winter Schools and the financial administration of projects.