Prof. Richard O Laing
MBChB (Zimbabwe), MSc (London), MD (Zimbabwe)
Extra-ordinary professors

Richard Laing is a physician who worked for 18 years at all levels in the Ministry of Health in Zimbabwe.
After receiving postgraduate degrees in public health and health policy, he spent 13 years in Boston, USA, where he initially worked for an international consulting company, Management Sciences for Health (MSH), establishing the International Network for the Rational Use of Drugs, and was an editor for Managing Drug Supply (2nd edition). He taught international public health at Boston University School of Public Health before joining the WHO in mid-2003 as a medical officer. During his ten years at WHO, Richard served on a number of expert committees and worked on measurement of medicines pricing and availability as part of the joint WHO/HAI project on medicine prices.
He has an extensive list of academic publications: he edited the Essential Drugs Monitor; he was one of the authors of the Priority Medicines for Europe and The World reports in 2004 and 2013; and was also the editor of the WHO World Medicine Situation (3rd edition).
In 2014, Richard returned to the Department of Global Health at Boston University School of Public Health, teaching primarily in the pharmaceuticals track. His research has focused on access to medicines such as insulin and on evaluating pharmaceutical company access initiatives such as Novartis NCD Access and the IFPMA multi-country Accelerating Access for NCDs. He has received two Carnegie African Diaspora Fellowships to spend time at UWC. He recently retired from Boston University and continues to work with UWC and the Ecumenical Pharmaceutical Network.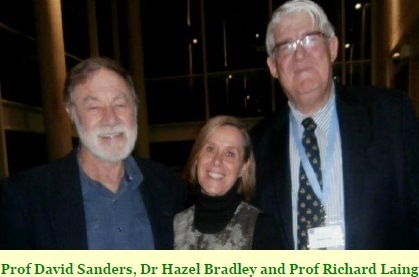 2014 David Sanders Lecture – Prof Richard Laing
Prof Richard Laing delivered the Annual David Sanders Lecture 2014: "Access to Medicines: the Struggle Continues"