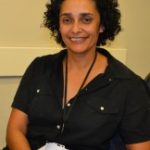 Ms Mariam Hassen
BHMS (Rhodes), BSc Med (Hons) (Cape Town)
Fieldwork co-ordinators
E: mahassen@uwc.ac.za

Following 12 years in biokinetics in the private sector, Mariam Hassen entered the field of public health when she joined the SOPH in 2016.
She works with two projects focusing on the management of diabetes, both of which are looking at strengthening systems regarding diabetes intervention and prevention in local communities.
Mariam is interested in contributing to understandings of diabetes epidemiology, management and social innovation in introducing opportunities in diabetes prevention and management.