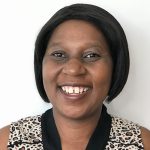 Dr Martina Lembani
BSc (University of Malawi), MADS (UWC), MADM, PhD (Ruhr University – Bochum, Germany)
Senior Lecturer
E: mlembani@uwc.ac.za

Martina Lembani is a demographer and further specialized  in international development studies and development management.
She joined SOPH in 2014 as a Postdoctoral research fellow  on health policy and systems research projects within the school. She was appointed as Senior Lecturer in  January 2021 and convenes the Population Health and Development: A Primary Health Care Approach module. She specialises in health systems research with particular interest in the use of systems dynamics modelling methodology focusing on maternal health, sexual reproductive health, mental health and food environments. Her current new area of interest is migration and health. She has also previously worked in the fields of HIV and AIDS, community development and monitoring and evaluation.  Martina also has experience working with non-governmental organisations where she worked as a monitoring and evaluation coordinator on a community empowerment project from 1999 to 2004 in Malawi and later briefly worked as the African regional monitoring and evaluation manager for another NGO (Orbis International)  based in Cape town working in the area of eye health between 2018 to 2019.
Participatory systems analysis tools for improved health systems performance.
A webinar Series hosted by Dr Martina Lembani from the 29th September till the 10th November