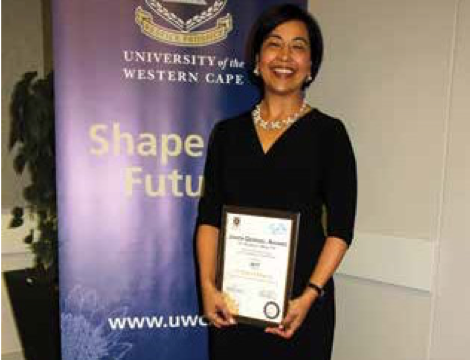 Jakes Gerwel Award in Public Health 2017 – Rolene Wagner
The 2017 Award was presented to 2002 graduate Dr Rolene Wagner, a medical doctor and, from December 2012, the CEO of Frere Hospital in East London, South Africa.
In this post, Dr Wagner's clear focus was on delivering an efficient, cost-effective and patient- centred health care service. As a result she and her team were able to transform Frere from the hospital known as 'a place where babies go to die' into one which is now nationally recognised for its achievements.  She received the 2017 Award for making this public hospital into a patient-centred site of excellence.
These achievements include a measurable improvement in patient safety with significant reductions in mortality and morbidity. Frere Hospital annual crude death rates have come down by 26% in the past four years and, in the last two years, mortality has been the lowest since 2004.
Successful implementation of key quality improvement projects have also made a difference. For instance, four years ago the waiting time in the pharmacy out- patient's unit was four to six hours; it is now under 45 minutes. In-patient radiology waiting times have been reduced from 10 days to 24 hours.
The hospital prides itself on its ability to innovate as  a means to mitigate systemic public health challenges and to improve clinical and corporate governance. Key amongst these is the development of an open source, electronic health management system. In addition Frere Hospital was the first public hospital to launch a website and Facebook page as a means to engage with clients. Dr Wagner also ensures that every positive patient experience that is reported is shared directly with the staff who were involved in the care of that patient.