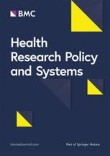 Community health workers at the dawn of a new era: 3. Programme governance
Staff inolved:
Simon Lewin,
Uta Lehmann
& Henry B. Perry
Community health workers (CHWs) can play a critical role in primary healthcare and are seen widely as important to achieving the health-related Sustainable Development Goals (SDGs).
The COVID-19 pandemic has emphasized the key role of CHWs. Improving how CHW programmes are governed is increasingly recognized as important for achieving universal access to healthcare and other health-related goals.
This paper, the third in a series on "Community Health Workers at the Dawn of a New Era", aims to raise critical questions that decision-makers need to consider for governing CHW programmes, illustrate the options for governance using examples of national CHW programmes, and set out a research agenda for understanding how CHW programmes are governed and how this can be improved.
The full content of the supplement can be found at https://health-policy-systems.biomedcentral.com/articles/supplements/volume-19-supplement-3. The link to the blog post can similarly be found here https://blogs.biomedcentral.com/on-health/2021