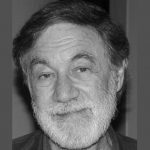 Emeritus Prof. David Sanders
MBChB (Birmingham), DCH (RCS Eng), MRCP (UK), DTPH (London), DSc (Hon Causa) (UCT)
Founding Director of SOPH
On 30 August 2019, the SOPH's founding Director, Professor Emeritus David Sanders passed away unexpectedly while on holiday in the UK with his wife, Sue Fawcus. His passing came as an enormous shock to his colleagues in the School and across the world. Despite having formally retired in 2010, he continued to be deeply involved in a wide range of research and advocacy activities, both the SOPH and the People's Health Movement.
On this page we have captured a synopsis of his life, his publications and other contributions, the innumerable tributes following his passing.
Elsewhere on this website readers can find recordings and reports of the Annual David Sanders Lecture in Health and Social Justice, which were introduced at the SOPH in 2012 to honour David's work, following his retirement.
David Sanders[1] – a brief biography
---
David grew up and trained as a medical doctor in Zimbabwe (then known as Rhodesia), but left for the UK where he obtained specialisations in paediatrics, tropical and community health and became a member of the Royal College of Physicians. He combined his professional work with political activism from early on in his career, working with Southern African liberation movements, the Medical Campaign against private practice in UK and for preservation of NHS, and becoming a big advocate for Primary Health care.
In 1980 David returned to Zimbabwe with his wife Sue to assist in building up district health services on the Primary health care model with a strong emphasis on community organisational structures that had been developed during the Zimbabwe liberation struggle. He also ran a rural child feeding programme based on local foods. He then transitioned to the University of Zimbabwe Department of Paediatrics and then to Community Health where he organised a rural based teaching programme for undergraduates . These rural PHC initiatives inspired many HCWs to continue this type of work all over the world and also resulted in several marriages. His own children: Ben, Lisa and Oscar were born during this time and were a treasured addition to his life. He also further developed his love of fly fishing which was a big feature of family holidays with his extended family who were such an important part of his life in Zimbabwe.
Following his recruitment to UWC David was recruited by the late Prof Jakes Gerwel to spearhead the establishment of the initially tiny Public Health Programme at UWC to assist in building a new health system in South Africa – task he pursued with characteristic energy and determination. He attracted a formidable team of like-minded academics, with whom he established the largest continuing education programme in Public Health in Africa, started the first MPH programme open to health practitioners who were not medical doctors, which from 2000, was offered through blended learning, and initiated a wide range of research, advocacy and policy support initiatives.
Today's SOPH building, funded by the Atlantic Philanthropies, is a great visible manifestation of the respect and acknowledgment of his work. Throughout his academic career he married academic work with health activism,  campaigning against  the international  monopoly of food companies which promote the obesity epidemic, for a sugar tax, for a stronger focus on Comprehensive Primary Health Care  etc. His views on the link between political change and health as embodied in Alma Ata declaration and fundamental importance of addressing the social determinants of health, came together in People' s Health Movement of which he was a founder and to which he remined fervently committed, as well in his seminal publications The Struggle for Health and Questioning the Solution. He was in the process of revising The Struggle for Health for a second edition when he passed away. This work is now being completed by his wife and several colleagues, and we hope to launch the new edition in 2022.
The tributes, messages and condolences that flooded in from hundreds of people after his death  all expressed a profound sense of loss, as well of deep gratitude for his work and contribution: loss of and gratitude for the tenaciously urgent voice of the health activist and commentator fighting for health as a human right, fighting against persistent inequity and injustices; for the leader who helped build the post-independence health system in Zimbabwe and later in South Africa, the School of Public Health at UWC, and the People's Health Movement both globally and in South Africa; for one of the public health community's voices of conscience, who could be relied upon to ask the inconvenient questions at a world health assembly, a TV debate or a local workshop; expressing in an enviably articulate and sharp manner what many of us could not find the words to say. These tributes can be found on the websites of the School of Public Health and the People's Health Movement.
On 19 September we remembered David and celebrated his life at a memorial in the School of Public Health attended by more than 400 people, which can be watched here.
The UWC School of Public Health will be associated with David Sanders' name for a very long time to come. It isn't his only legacy, but it is an important one, and his unwavering focus on health equity and of social justice continues to shape and direct our work.
A big thank you to David's son Oscar. Much of the account of David's life before he joined UWC comes from his eulogy to his father at his memorial.