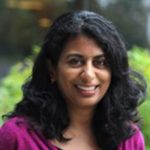 Prof. Asha George
MSc (Harvard), DPhil (Sussex)
Professor and SARCHI Chair
E: asgeorge@uwc.ac.za

Asha George joined the SOPH in 2016 as the South African Research Chair (SARChI) in Health Systems, Complexity and Social Change.
She continues at the Johns Hopkins School of Public Health as an Adjunct Professor and is a Principal Visiting Fellow at the United Nations University's International Institute of Global Health. She is a qualitative researcher engaged with health systems to advance health and social justice in low- and middle-income countries. With a gender and rights lens, she focuses on the frontline interface and governance of services, taking into consideration community and health worker perspectives.
Her longer term national level work includes work in India, where she partnered with allies across community, district, state and national health systems to advance maternal health from a gender and rights perspective. Prior to that she worked in Mexico with government ministries and the UN system to advance the Beijing and Cairo agendas for women's health and rights.
From 2016-2020, she was elected to the Board of Health Systems Global and served as its Vice Chair from 2016-2018, and its Chair from 2018 to 2020. She currently leads the Drivers Working Group for Countdown to 2030, is a Commissioner for the Lancet Commission on Re-Aligning Child Health for the SDG Era and chairs the Scientific and Technical Advisory Group for the Human Reproduction Program/ Department of Reproductive Health Research at WHO Geneva.
Dr. George is rated as a B3 scientist by the National Research Foundation. Since 2002, she has co-edited 2 edited volumes, 4 journal supplements, over 120 journal publications and multiple technical reports and guidance documents.