I am a postdoctoral research fellow at the School of Public Health, linked to the SARCHII in health systems governance.
I have recently completed my PhD at the University of KwaZulu-Natal, my research proposed a composite model of intervention for ensuring clinical leadership in the labour ward of district hospitals, towards the reduction of maternal and perinatal mortality in the era of Sustainable Developmental Goals.
In The school of Public Health, I am working on the evaluation of the Mphatlalatsane project, a QI/ system strengthening initiative for improved maternal, neonatal and reproductive health care in three catchment areas of the country.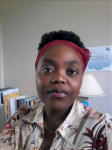 Scoping review protocol of service delivery-related interventions to improve maternal and newborn health in low-income and middle-income countries