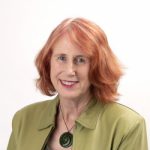 Prof. Fran Baum
Bachelor of Arts (Hons) (University of Wales), PhD (University of Nottingham)
Honorary professors

Fran Baum AO  is an NHMRC Investigator Fellow & Director of Stretton Health Equity, Stretton Institute, University of Adelaide, South Australia
SOPH has had a long-standing, collegial relationship with Prof Baum and the Stretton health Equity group which previously was based at Southgate Institute for Health, Society and Equity at Flinders University.  n 1997 Prof Baum and members of her academic team provided invaluable technical assistance to the School in establishing its pioneering distance education programme and were co-authors of many of the original core module of our MPH programme. Since then Prof Baum and the SOPH, under the leadership of the late Prof David Sanders, have continued to work together on a number of international public health research initiatives such as 'Revitalizing Health for All: Learning from Comprehensive Primary Health Care (CPHC) Experiences' (2007-2011), and a current initiative of 'Punching above their weight: Building capacity for research on why some countries have better life expectancies than predicted by national income' (2018-9).
Prof Baum is internationally recognized as a leader in applying social science skills to the study of the social and economic determinants of health and health equity. She has been advisor and consultant to the WHO on Healthy Cities, Health in All Policies and the social and economic determinants of health and has a strong record of research translation to policy and practice. Most notably she served as a Commissioner on the WHO Commission on Social Determinants of Health (CSDH) from 2005 – 2008. Prof Baum is a dynamic and esteemed public health educator and facilitator and her books, "The New Public Health" and the more recent "Governing for Health" are key resources we use in our PGD and MPH learning and teaching programmes.
Prof Baum received an Officer of the Order of Australia (AO) for her public health service. She is a Fellow of the Academy of the Social Sciences in Australia, the Australian Academy of Health and Medical Sciences and of the Australian Health Promotion Association.  She is a past National President and Life Member of the Public Health Association of Australia. She is the immediate past co-Chair of the Global Steering Council of the People's Health Movement – a global network of health activist (www. phmovement.org) and a member of the PHM Advisory Council.

A new book celebrates David Sanders' work and legacy
The People's Health Movement published a new book celebrating David Sanders' work and legacy.