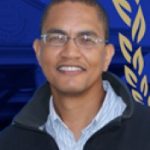 Prof. Brian van Wyk
BSc (Hons), MSc Psychology, DPhil (Stellenbosch)
Professor
E: bvanwyk@uwc.ac.za

Brian van Wyk is a research psychologist with a passion for postgraduate supervision and teaching and innovation in health research methods.
Prior to joining SOPH as a lecturer in January 2006, he was a Chief researcher in the Social Aspects of HIV/AIDS and Health research programme at the Human Sciences Research Council (HSRC). He trained in the Health Systems Research Unit of the South African Medical Research Council from 2000-2003, where he conducted his doctoral research on the effects of health reforms on organization of care and team functioning in a primary health care setting. In 2006-7, he was a Fogarty training fellow in the Epidemiology of HIV/AIDS and TB at Columbia University Mailman School of Public Health in the City of New York, NY. Brian merges his training in Health Systems Research and experience in researching social and behavioural aspects of HIV/AIDS, in his current research which aims to improve adherence and treatment outcomes for adolescents on HIV treatment.
Brian served as Deputy-dean of Research and Postgraduate studies in the Faculty of Community and Health Sciences from 2013-2016. He is currently serving as vice-chairperson on UWC Biomedical Research Ethics committee, and as representative of UWC Senate on UWC Institutional Forum.